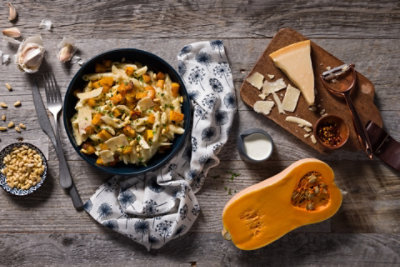 Creamy Butternut Squash Pasta
Indulge in the comforting flavors of the season with this Creamy Butternut Squash recipe. Made with our exclusive Signature RESERVE™ pasta, seasonal squash and flavorful herbs, this dish is perfect to enjoy as the main entrée during holiday season weeknights.
Total original price
* Estimated price based on adding all ingredients to cart.
Pasta
4 cups butternut squash, cut into 1/2-inch dice
4 tablespoons Signature RESERVE™ extra virgin olive oil, divided
1/2 teaspoons kosher salt
1/2 teaspoon ground black pepper, divided
16 ounces Signature RESERVE™ penne pasta
2 cloves garlic, grated
1/2 cup Lucerne® heavy whipping cream
2 cups fontina cheese, grated
1/2 cup Primo Taglio® Parmigiano-Reggiano cheese, shaved
1/2 cup pine nuts
Optional Garnish
1/4 cup roughly chopped mint leaves
1/4 cup roughly chopped Italian parsley
Cooking Instructions
Step 1
Preheat oven to 450°. Place squash on a rimmed baking sheet and drizzle with 2 tablespoons extra virgin olive oil. Toss to coat with oil and spread squash in an even single layer. Season with 1/2 teaspoon salt and 1/4 teaspoon pepper. Roast in oven for 25 minutes, or until caramelized and fork-tender.
Step 2
Cook pasta according to package directions. Drain pasta, reserving 1 cup of the pasta water. Return pasta to stove-top over low heat. Stir to combine pasta with reserved pasta water, 1/4 teaspoon black pepper, garlic, whipping cream, and fontina cheese. Continue stirring until cheese is melted and pasta is evenly coated in the cheese sauce.
Step 3
Place pasta in a serving dish and top with butternut squash, remaining pepper, and pine nuts. Drizzle with remaining 2 tablespoon extra virgin olive oil and top shaved parmesan. Garnish with fresh mint and parsley if desired. Serve.
Step 4 :: Helpful Hints
Use a vegetable peeler to easily shave slices from the side of the Parmigiano-Reggiano wedge.
Step 5 :: Helpful Hints
Provolone, gouda or gruyere cheese are all great substitutes for the fontina cheese in this recipe.
All recipe ingredients should be cooked to a safe internal temperature according to USDA guidelines. After preparing a recipe, please store any leftovers in the refrigerator.