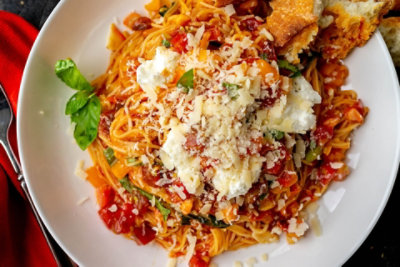 Capellini with Ripe Summer Tomato Sauce
Total original price
* Estimated price based on adding all ingredients to cart.
Main
4 lbs ripest "farmstand" tomatoes
4 large cloves garlic, thinly sliced + 1 small clove garlic, minced
1 large shallot, minced
Pinch red pepper flakes
1/4 cup extra virgin olive oil, more as needed
Kosher salt as needed
8 oz capellini pasta
1 cup whole milk ricotta cheese
1/2 cup freshly grated Parmesan Reggiano
1/3 cup fresh basil chiffonade, more for garnish
Cooking Instructions
Step 1
Wash and dry the tomatoes. Remove and discard the core, then finely chop the tomatoes, reserving all of their juices. Place 1 C of the diced tomatoes into a separate bowl and stir in the minced garlic, a little extra virgin olive oil, about 1 Tbsp of the basil chiffonade and season with a pinch of kosher salt. Set aside to top the finished dish.
Step 2
Place 2 Tbsp of the extra virgin olive oil into a large saucepan over medium-high heat. Add the thinly sliced garlic, minced shallot and red pepper flakes to taste and cook for 2–3 minutes until the shallots are translucent and the garlic is fragrant. Add the remaining diced tomatoes and their juices and 1 tsp kosher salt. Bring to a simmer, taste and add more salt if needed.
Step 3
Add the capellini to the simmering tomatoes and cook as package directs, until the pasta is al dente (there should be plenty of liquid—add a little water if the pasta absorbs all of the liquid from the tomatoes before it's finished cooking). Remove the pot from the heat and fold in half of the grated Parmesan Reggiano, remaining extra virgin olive oil and the basil chiffonade. Top with the reserved 1 C of seasoned tomatoes, either spooned over each portion or over the pasta in the serving dish. Serve with a generous dollop of ricotta cheese on each portion, more Parmesan and basil.
All recipe ingredients should be cooked to a safe internal temperature according to USDA guidelines. After preparing a recipe, please store any leftovers in the refrigerator.