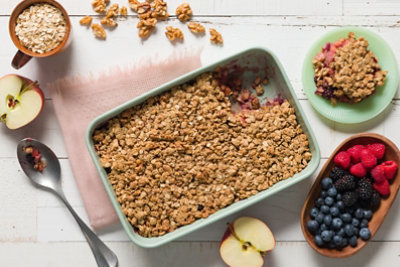 Easy Apple Berry Crisp
Get the comfort and flavor you crave without the extra sugar. Made with whole grains, apples and the berries of your choice, this dish serves as a yummy breakfast or healthy dessert option. As a bonus, this becomes a vegan recipe if you substitute canola oil for butter in the oat topping.
Total original price
* Estimated price based on adding all ingredients to cart.
Main Ingredients
2/3 cup Signature Kitchen walnut halves or pieces
1/2 cup Signature Kitchens old fashioned oats
1/2 cup + 3 tablespoons whole wheat flour (divided use)
2 tablespoons + 3 tablespoons brown sugar (divided use)
1/4 teaspoon ground cinnamon (double this amount if you want more cinnamon)
4 tablespoons Lucerne Whipped Butter salted (melted (or 3 tablespoons canola oil plus a pinch of salt))
3 tablespoons O-Organics maple syrup
4 cups O-Oganics apple slices (coarsely chopped or cut into ½-inch dice)
2 cups berries (washed and drained (raspberries, blackberries, blueberries, etc.))
1/4 cup water or fruit juice
Cooking Instructions
Step 1
Preheat oven to 375-degrees. Coat a deep 9 x 9-inch baking dish (or similar) with canola cooking spray. Toast the walnuts by spreading them on a nonstick frying pan and lightly browning over medium heat until fragrant (about 4 minutes), turning often. Chop the nuts to medium-fine. 
Step 2
To make the topping, combine nuts, oats, 1/2 cup of whole wheat flour, 2 tablespoons brown sugar, and cinnamon in the bowl of an electric mixer. Drizzle the melted butter (or canola oil and a pinch of salt) and maple syrup over the top and blend on low speed until crumbly. 
Step 3
For the filling, add the apples, berries and water or fruit juice to a large bowl. Gently stir in 3 tablespoons sugar and 3 tablespoons whole wheat flour. Spoon the mixture into prepared baking dish then spoon the topping over the fruit, pressing down lightly. 
Step 4
Place dish on a baking sheet to catch the overflow. Bake on center rack until the topping is golden and the juices have thickened slightly (about 35 minutes). Serve warm with light vanilla ice cream if desired!
All recipe ingredients should be cooked to a safe internal temperature according to USDA guidelines. After preparing a recipe, please store any leftovers in the refrigerator.