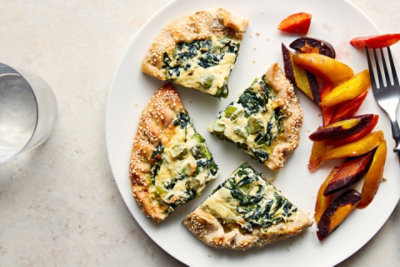 Spring Vegetable Tarts with Ricotta, Mozzarella, and Honey-Roasted Carrots
What's even better than a super cheesy tart? Individual tarts you don't have to share, of course! This recipe is the delicious marriage of a pizza and a springtime quiche: Circles of whole-wheat pizza dough are heaped with a spinach, mozzarella, and ricotta filling, with just enough egg to bind everything together. Dusting the edges with sesame seeds adds crunch and gives the tarts a bakery look we love. A side of tender honey-roasted carrots completes the plate, and is right in line with our spring theme.  
Total original price
* Estimated price based on adding all ingredients to cart.
Main Ingredients
1 1/2 pounds whole-wheat pizza dough
8 ounces baby spinach
8 ounces asparagus
1 pound rainbow carrots
3 cloves garlic
2 tablespoons flour
8 ounces ricotta cheese
3 ounces shredded mozzarella cheese
3 tablespoons sesame seeds
1 ounce honey
2 parchment papers
olive oil
2 eggs
kosher salt
black pepper
Cooking Instructions
Step 1
Preheat oven to 425°F. Remove pizza dough from bag and let soften at room temperature. Rinse all produce. Pat spinach dry with paper towel. Trim and discard woody bottoms of asparagus, then cut crosswise into .5-inch pieces. Halve carrots lengthwise, then cut diagonally into 1-inch pieces. Thinly slice garlic. In a large bowl, whisk 2 eggs. Set aside 1 tablespoon egg in a small bowl and reserve for brushing over tarts.  
Step 2
Heat 1 tablespoon olive oil in a large pan over medium-high heat. When oil is shimmering, add garlic and cook, stirring occasionally, until lightly browned, 1-2 minutes. Add spinach and asparagus and cook until spinach is wilted and asparagus softens, about 2 minutes more. Remove pan from heat and set aside to cool.
Step 3
While vegetables cool, sprinkle flour onto a clean, dry surface. Divide dough into 4 equal pieces, then roll or stretch into circular shapes, rotating frequently and working from center to edges, until .25-inch thick (see recipe tip). Wrap spinach and asparagus in paper towel, squeezing to remove excess liquid. Add to large bowl with remaining egg, along with ricotta, mozzarella, .75 teaspoon salt, and pepper, stirring to combine. 
Step 4
Line 2 baking sheets with parchment papers. Place 3 doughs on 1 sheet and 1 dough on the other (the carrots will also roast on this sheet). Spoon filling in center of doughs, leaving a 1-inch border. Fold dough edges over filling and crimp (see recipe tip), then brush with reserved 1 tablespoon egg and sprinkle with sesame seeds. 
Step 5
On other half of second baking sheet, toss carrots with honey, 1 tablespoon olive oil, .75 teaspoon salt, and pepper as desired, and arrange in a single layer. Transfer both baking sheets to oven and cook until tarts are warmed through and golden and carrots are tender and lightly browned, 18-20 minutes.
Step 6
Use the downtime while the tarts and carrots cook to catch up on dishes or pour a glass of something special. Cut spring vegetable tarts into quarters and divide among serving plates. Serve with honey-roasted carrots. Dig in!  
All recipe ingredients should be cooked to a safe internal temperature according to USDA guidelines. After preparing a recipe, please store any leftovers in the refrigerator.