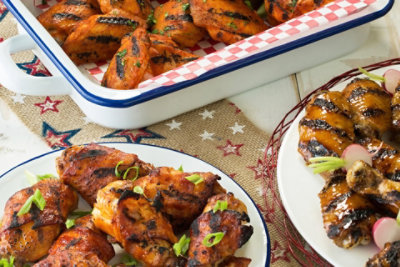 Easy Grill Chicken Wing Trio
Three is better than one when it comes to serving chicken wings! Whip up these three tasty and easy grilled chicken wing flavors for a variety of tastes this summer.
Total original price
* Estimated price based on adding all ingredients to cart.
Lemon Spice Wings Vin with Tzatziki Dip
12 Chicken Wings (prepared as described in Pre-Cooking Method)
Bacon Wrapped Wings with BBQ Vinaigrette
12 each Chicken Wings
6 strips Premium Bacon (cut strips into half)
4 each Wooden skewer
Marinade
3 tbl Extra Virgin Olive Oil
3 tbl Lemon Juice
2 pinch Dried Oregano
2 pinch Crushed Red Chile Flakes
2 pinch Kosher Salt
2 pinch Black Pepper
Sauce
1 cup Cucumber Tzatziki Dip
12 slices Garnish: Radish (thin sliced)
1/2 cup Coconut Milk
3 tbl Peanut Butter
1/4 cup Green Onion
2 tbl Lime Juice
2 tbl Garnish (cilantro minced)
Sriracha Wings w/Thai Coconut Peanut Dipping Sauce
3 tbl Sriracha
2 tbl Soy Sauce
2 tbl Vegetable Oil
Vinaigrette
1/4 cup BBQ Sauce
1/4 cup Vinegar
1/4 cup Extra Virgin Olive Oil
2 tbl Garnish (green onion minced)
Cooking Instructions
Step 1
Prepare the chicken wings into single sections, with a knife separate the wings by cutting between the joint/bones.
Step 2
Fill a large sauce pot with water, season with salt and pepper and bring to a boil.
Step 3
Add the chicken wings, lower temperature and simmer for 5 minutes.
Step 4
Transfer the chicken wings to tray and allow to cool for 5-10 minutes. If wrapping with bacon, season with salt and pepper, wrap the wings with bacon strips and skewer to hold in place.
Step 5
Prepare the marinade for the wings.  
Step 6
Skewer the wings, line up and insert two skewers to hold wings and prevent rotating when grilling.
Step 7
Coat wings with marinade, rest for 5-10 minutes covered before grilling. Place wings onto preheated medium temperature grill. Note: To prevent sticking spray with non-stick spray.
Step 8
Grill wings for approximately five minutes per side.  
Step 9
Take the temperature, internal temp has to reach 165 degrees. Remove from grill, transfer to platter and brush with BBQ Vinaigrette and garnish with minced green onion.
Step 10
Prepare wings as described in Pre-cooking Method.
All recipe ingredients should be cooked to a safe internal temperature according to USDA guidelines. After preparing a recipe, please store any leftovers in the refrigerator.