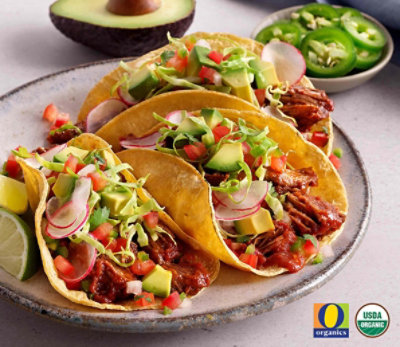 O is for "Okay, who said it can't be Taco Thursday, too?"
Give taco night an upgrade with O Organics® ingredients that taste as good as they make you feel. O Organics® products are USDA Certified Organic, and certified delicious. They are made responsibly, sustainably and safely. They are always Non-GMO, and grown without synthetic pesticides.
Our labels are pretty impressive, but our food speaks for itself. Try our organic fresh fruits and vegetables to wholesome organic dairy and meats, organic cage-free certified eggs, organic cereals, organic snacks, organic baby food, organic salad, and more – tasty food comes in all forms with O Organics®.

O is for "Our philosophy is NON GMO. AND YES GTF (Great Tasting Food)."
Organic is good for you. But it's also tasty and delicious. O Organics® products are more than organic, it's flavorful food that you can't get enough of. When you see the O Organics® logo on your organic produce, you can be sure every mouthwatering berry, banana and baby carrot is:
Always grown without synthetic pesticides
Farmed to conserve biodiversity
USDA certified organic
Always Non-GMO
Shop O Organics® today, exclusively in our stores.